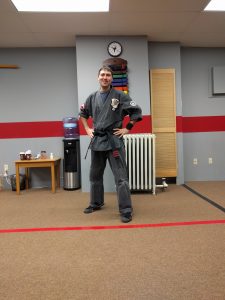 Shawn Whitney (Instructor 3rd Degree Black Belt)
I have over 20 years of training experience and over 15 years of teaching experience.
Here is a little about my life and my history, I grew up in my younger years in Gardner MA area, where I was home schooled up until High School. In my early teens I moved to Leicester MA, where I attended Leicester High School and at age 15 I began my martial arts training in American Kenpo Karate.
When I graduated from high school I left my training for a year and joined the Air National Guard as a draftsman and surveyor and was stationed at 104th Fighter Wing – Barnes Air National Guard Base in Westfield MA. After Basic Training and Technical School I returned home to begin my martial arts training. I served for 6 years and worked up the rank to Staff Sargent (E5). When my base changed missions/roles they disbanded my unit and I decided to finish my service out at the National Guard Headquarters in Milford, and was honorable discharged in April of 2008. During this time I became an instructor in American Kenpo Karate in March of 2005.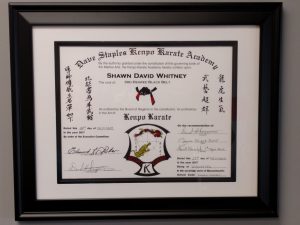 Throughout my training I continued to teach and train in American Kenpo and in December of 2008, I acquired my 1st degree black belt in American Kenpo Karate. Six years later in December of 2014, I acquired my 2nd Degree Black Belt in American Kenpo Karate. I began to search for a more qualified and skilled teacher to take me to the next level of my training. I found Dave Staples, a 7th Degree Black Belt in American Kenpo Karate. Who after refining my skills certified me as a 3rd Degree Black Belt on December, 22nd 2017. (see certification)
I am currently training not only in American Kenpo Karate, but in Tai Chi as well. This training is not only to expand my knowledge about martial arts, the human body, and to improve my skill, but to share it with others and pass down true art, skill, and ability.
I currently train at: